Why is Google My Business such a big deal?
Where is the nearest gas station?
Where can I find a good breakfast place near me?
Go back a few decades and people searching for places like this would be searching through a thick copy of the Yellow Pages or asking a local for directions and recommendations.
Now Google helps businesses get found online with their own business directory tool, Google My Business.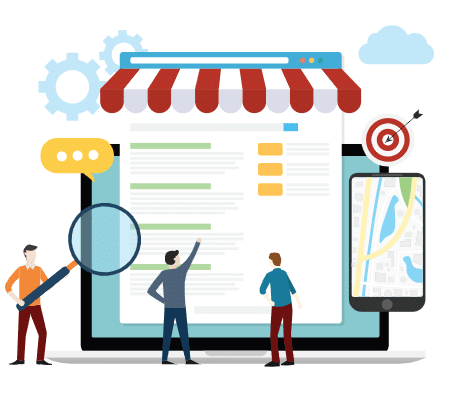 What Is Google My Business?
Google My Business (GMB) is a free platform that allows businesses (even those without a strong web presence) to manage how they appear on Google Search and Maps.
Google My Business provides an all-inclusive platform for listing your business name, location, and hours, as well as adding photos and videos, accepting bookings, gaining insights on how and where people are searching for you, and sharing updates about your business. You can feature products and services, post articles and images, and monitor and respond to customer reviews. But the most important feature of GMB is that it allows searchers to call you DIRECTLY from their search results.
This is a GAME CHANGER!
Decreasing the number of steps between a consumer thinking about a product or service and purchasing that product or service is a key goal of businesses and marketers. Google My Business provides this incredibly valuable benefit for FREE to any business, even one without any other business listing.
Why are Google My Business listings so powerful?
Google Maps listings are in the #1 spot, right below paid below ads.
Businesses who pay for Google Ads spend a LOT of money to have their sponsored listings appear at the very top of search results. Today's users know this and tend to skip over the ads and scroll down to organic results. The next position below ads are Google Maps listings. Typically, the top 3 GMB listings from the search are displayed here. This gives any size business tremendous power in local search.
GMB simplifies your customer's search experience.
Appearing on Google Maps is critical to giving searchers immediate access to all of the information they need. It gives them your location info, hours, contact info, website link, social links, reviews, and more. GMB profile optimization is huge for building brand awareness and increasing your overall visibility in local search.
Mobile searches are more prevalent than ever.
Every year, people spend more and more time on their mobile devices. Approximately 60% of all searches take place on a mobile device, and nearly half of all mobile searches are related to a location.
If you are unsure whether you have claimed your Google My Business listing, don't know how to verify your business or want help taking advantage of all the features GMB offers, let us help! Call today – 805.317.6706.